The Adam St. Martin Foundation operates principally as a family driven foundation and was created to honor the memory of our son Adam Alexander St. Martin who experienced a lifetime of challenges as a multiple transplant recipient.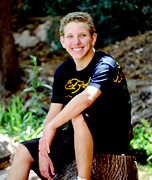 The Adam St. Martin Foundation recognizes the many challenges that children who have undergone major life threatening illnesses experience in their lives. These children overcome not only the surgery or medical treatments but the challenges in keeping up with school work and their classmates. This is impacted by numerous doctor visits, therapy visits, hospitalizations and treatments. College can seem a far away dream because of the financial burden families experience with a serious medical challenge as well as a grade point average (GPA) is impacted by the time away from school and many scholarships and college opportunities are geared toward the top academic performance.
We believe that all children deserve the opportunity to pursue a dream and that dream should not be unattainable because of illness. The Foundation's purpose is to offer financial support to college bound students who have had organ or tissue transplants, whose family members have been donors and to those students who exemplify the attitude of achievement regardless of the challenges. The Adam St. Martin Foundation will also offer financial support through grants, to donor families who through their suffering offered the gift of life to others.
The Adam St. Martin Foundation exists through the generosity of those who donate their time and money. There is no amount too small to help fulfill the dreams of young people who have already experienced so much in their lives.
This corporation is organized and operated exclusively for charitable purposes within the meaning of Section 501(c)(3) of the Internal Revenue Code. No substantial part of the activities of this corporation shall consist of carrying on propaganda, or otherwise attempting to influence legislation (except as otherwise provided by Section 501(h) of the Internal Revenue Code), and this corporation shall not participate in, or intervene in (including the publishing or distribution of statements), any political campaign on behalf of, or in opposition to, any candidate for public office. The property of this corporation is irrevocably dedicated to charitable purposes and no part of the net income or assets of this corporation shall ever inure to the benefit of any director, officer, or member thereof or to the benefit of any private person. Upon the dissolution or winding up of the corporation, its assets remaining after payment, or provision for payment, of all debts and liabilities of the corporation shall be distributed to a non-profit fund, foundation, or corporation which is organized and operated exclusively for charitable purposes and which has established its tax exempt status under Section 501(c)(3) of the Internal Revenue Code. No part of the net earnings of this corporation shall inure to the benefit of, or be distributable to, it's members, directors, officers, or other private persons, except that this corporation shall be authorized and empowered to pay reasonable compensation for services rendered and to make payments and distributions in furtherance of the purposes set forth in these articles.